Space Foundation Press Releases
---
U.S. Air Force Academy to Host Audience with an Astronaut
Written by: developer
Colorado Springs, Colo. (April 1, 2013) – On Friday, April 5, 2013, more than 500 regional elementary and middle school students and educators will fill the seats of the U.S. Air Force Academy's Fairchild Hall large auditorium to spend some time with former NASA Astronaut Leroy Chiao, Ph.D., and learn about his experiences as a Space Shuttle astronaut and as a resident of the International Space Station (ISS).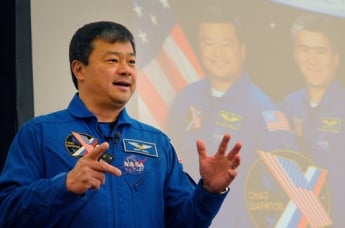 Through the Space Foundation Audience with an Astronaut program, students can learn firsthand what it takes to get from elementary/middle school to becoming a space explorer. The presentation includes an informational and inspirational talk followed by a question and answer period. The program is offered exclusively to the classes of Space Foundation Teacher Liaisons, a group of extraordinary teachers who use space in the classroom.
"Space captures children's imaginations and inspires their interest in STEM subjects — science, technology, engineering and mathematics," said Space Foundation Vice President – Education Iain Probert. "The Space Foundation's Audience with an Astronaut program takes the concept a step further by letting children be inspired by actual astronauts."
Col. Marty France, a long-time supporter of the Space Foundation and head of the Academy's Department of Astronautics, helped put the session together.
"I think it's great that we partnered with the Space Foundation to host this event," said France. "USAFA's produced so many astronauts and our whole curriculum has so many aspects of space, that it was just natural — and the chance to be a part of motivating more kids to continue their STEM studies makes it even better!"
The Academy's support of this effort is another example of increased community outreach and regional STEM efforts. The Academy formally institutionalized a decades-old STEM effort with the creation of the USAFA K-12 STEM Outreach Center. The center provides K-12 and educator educational opportunities such as the Audience with an Astronaut, Cool Science and the Chemistry Magic Show, Physics is Phun, and annual continuing education programs for educators.
During the April 5 event, the students will be shown demonstrations from various departments including a rocket engine test fire, a Physics is Phun and a shortened version of USAFA's popular Chemistry Magic Show.
Another special guest, Miss Mississippi Paromita Mitra will be on-hand to help lead the rocket engine test fire presentation. Mitra is a student at Mississippi State University, and is pursuing a degree in aerospace engineering. Her platform as reigning Miss Mississippi is STEM outreach for girls.
The Academy hopes that USAFA's STEM outreach efforts with regional organizations like the Space Foundation will continue to make positive impacts on the lives of students in the region.
"It is events like this Astronaut for a Day that create "Kindle-the-fire" moments to spark our younger students' interest in STEM. The earlier we can get them interested, the better we are able to develop them into the technical leaders of tomorrow for our nation and the world," said USAFA Dean of the Faculty, Brig. Gen. Dana Born.
Media interested in attending this event can contact USAFA Public Affairs, John Van Winkle, 719-333-7593.
About the U.S. Air Force K-12 Science, Technology, Engineering, & Mathematics Outreach Center
The United States Air Force Academy's (USAFA) K-12 Science, Technology, Engineering, and Mathematics (STEM) Outreach Center supports a wide variety of STEM outreach activities to K-12 students and educators. Leveraging a comprehensive regional enterprise and sustainment strategy, the Center, in partnership with regional non-profit organizations and local industry, provides STEM educational opportunities for thousands of K-12 students beyond those in the classroom. The Center provides continuing education opportunities, access to regional and national resources programs for STEM educators via workshops at USAF Academy facilities and local schools, and support to other communities endeavoring to create their own STEM outreach programs. Information about the center's programs can be found on the USAFA Research webpage at www.usafa.edu/df/dfe/dfer/index.cfm?catname=research or on Facebook under USAFA's STEM Outreach Mascot- Aurora Phd.
About Chiao
Chiao is the Space Foundation's special advisor-human spaceflight. He grew up in Danville, Calif., and earned a Doctor of Philosophy degree in chemical engineering from the University of California at Santa Barbara. A native English speaker, he also speaks Mandarin Chinese and Russian.
His Space Shuttle missions include:
STS-92 Discovery, Oct. 11-24, 2000
STS-72 Endeavour, Jan. 11-20, 1996
STS-65 Columbia, July 8-23, 1994
In addition, he flew as Flight Engineer 1 aboard Soyuz TMA-5 to the ISS, where he served as commander and NASA science officer for Expedition 10. He lived on the ISS for six and half months.
Chiao received the NASA Distinguished Service Medal in 2004. After a 15-year career with NASA, he left in 2005 to work and consult on a number of projects. In 2009, he served as a member of the Review of United States Human Space Flight Plans Committee, and currently serves on the NASA Advisory Council. He holds appointments at Rice University and the Baylor College of Medicine, and is involved in educational programs. An instrument-rated pilot, Chiao has logged over 2,900 flight hours in a variety of aircraft.
About Mitra
Paromita Mitra was crowned Miss Mississippi in November 2012. Mitra is originally from Dhaka, Bangladesh. She is a student of aerospace engineering at Mississippi State University. Her platform is STEM outreach for girls.
About the Space Foundation
The foremost advocate for all sectors of the space industry and an expert in all aspects of space, the Space Foundation is a global, nonprofit leader in space awareness activities, educational programs that bring space into the classroom and major industry events, including the National Space Symposium, all in support of its mission "to advance space-related endeavors to inspire, enable and propel humanity." The Space Foundation publishes The Space Report: The Authoritative Guide to Global Space Activity and provides three indexes that track daily U.S. stock market performance of the space industry. Through its Space Certification™ and Space Technology Hall of Fame® programs, the Space Foundation recognizes space-based technologies and innovations that have been adapted to improve life on Earth. The Space Foundation was founded in 1983 and is based in Colorado Springs, Colo. Its world headquarters features a public Visitors Center with two main areas – the El Pomar Space Gallery and the Northrop Grumman Science Center featuring Science On a Sphere®. The Space Foundation also conducts research and analysis and government affairs activities from its Washington, D.C., office and has a field office in Houston, Texas. For more information, visit www.SpaceFoundation.org. Follow us on Facebook, LinkedIn and Twitter, and read about the latest space news and Space Foundation activities in Space Watch.
# # #
---
Posted in Space Foundation Press Releases