Year In Review (archive)
---
Annual Report: We Round Out our Education Programs
Written by: developer
Following is information found in the Space Foundation's 2012 annual report. 
We are building the next generation of space leaders and improving the overall quality of education through teacher, student and community programs that use space themes to promote interest and skills in space-based science, technology, engineering and mathematics (S-STEM).
Sphere - a Suite of SOS-Based Courses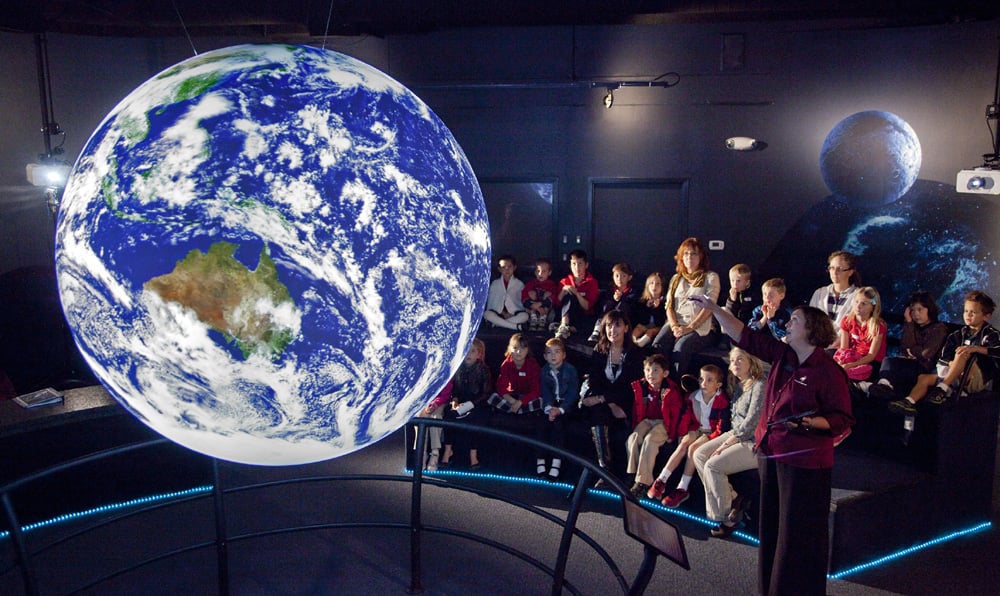 Last fall, coincident with the opening of the Northrop Grumman Science Center, we tested the first components of a series of Space Foundation-developed standards-based PreK-12 programs featuring the SOS that we call Sphere. During September and early October, almost 350 students from 11 Colorado schools participated in sessions that were rigorously evaluated to ensure that the content meets state and national education standards and that teaching methods are effective. The classes are now available to classroom teachers, school districts and other educational institutions, including public and private schools, colleges and universities offering education curriculum; and home school organizations. Learn more about the SOS-based Sphere program here.
Programs, Events and Milestones
This is just a sampling of our education programs in 2012; see a more complete list in the annual report.

Space Exploration Seminar: More than 100 people attended a free program presented in conjunction with Colorado State University that featured a STEM seminar and public lecture.
Teacher Liaisons: The 2012 flight of Space Foundation Teacher Liaisons included 20 teachers from 10 states, the District of Columbia and India, marking the first time a teacher from outside the U.S. has been selected.
New Horizons in Fairbanks: We took our New Horizons community program to Fairbanks, Alaska, with six days of classroom sessions and assemblies at schools that reached almost 1,500 public and private school students, a professional development session for teachers, five separate community events and extensive media coverage.
Robotics Training: Twelve Colorado Springs teachers completed our two-day robotics course funded by The Boeing Company where they learned to build, program and operate robots and received materials to help them start robotics clubs in their schools.
2012 Space Foundation International Student Art Contest: 36 winners were selected from more than 1,500 drawings, paintings and multimedia pieces by students from 17 U.S. states, Pakistan and Turkey. Later, two winning paintings were among 10 works of art projected and bounced off the Moon as part of the worldwide OPTICKS project.
28th National Space Symposium: Education events included Audience with an Astronaut sessions for local school children; a workshop and special events attended by more than 70 Teacher Liaisons; tours of the Ball Aerospace Exhibit Center atteneded by more than 350 students; a Space Career Day for National Space Grant university students and transitioning military featuring 11 major space companies and a presentation by Hayden Planetarium Director, astrophysicist, author and space advocate Dr. Neil deGrasse Tyson; and presentation of the 2012 Alan Shepard Technology in Education Award to Dr. Cynthia Waters of T.W. Andrews High School, High Point, N.C.
Space Across the Curriculum: We taught six teacher professional development courses in Colorado Springs, one in Pueblo, Colo. and four in Charles County, Md.
Upward Bound and College for Kids: The Space Foundation provided several days of space-focused hands-on team-building activities for more than 80 Trinidad (Colo.) State Junior College (TSJC) Upward Bound students and then conducted space activities for 50 students ages 7-12 in the TSJC College for Kids program.
Inspirational Luncheon: The Space Foundation and Charles County Public Schools (CCPS) held an educational exchange featuring Space Foundation Board Member the Honorable Patricia Grace Smith, who spoke about the importance of STEM education and the need for the United States to develop a well-educated workforce.
A Visit from NASA: NASA Associate Administrator for Education Leland Melvin visited Space Foundation headquarters and toured the Visitors Center and the Space Foundation Discovery Institute and spoke to students at the Jack Swigert Aerospace Academy.
STEM in Hawai'i: At the 13th annual Advanced Maui Optical and Space Surveillance Technologies (AMOS) Conference in Maui, Hawai'i, we conducted a Space in the Classroom workshop for 35 Maui-area teachers and presented programs for 300 children, representing every middle school on Maui.
Inspiration and Education for Girls: Astronaut Dottie Metcalf-Lindenburger headlined Girls STEM Day, a joint Space Foundation/CSU-Pueblo event that included mini-workshops designed to inspire girls to pursue STEM careers.
World Space Week: Activities included the opening of the Northrop Grumman Science Center, Audience with an Astronaut programs that reached 2,000 students from eight Colorado schools and posting of Teacher Liaison activities on the official World Space Week calendar.
Scary Fundraising: Attended by more than 175 people, our Space & Science Fiction Halloween Ball raised funds for scholarships for Colorado teachers and students to participate in Space Foundation education programs.
Providing a Venue for Learning: More than 550 parents, children, volunteers and school administrators from The Classical Academy (TCA), a charter school based in Colorado Springs, participated in an education event at our Visitors Center.
Participating in Festivals: Throughout the year, we participated in multiple education-related festivals, including the USA Science & Engineering Festival in Washington, D.C., STEM Rocks!, What IF... Festival of Innovation & Imagination, Cool Science Carnival Day and our own Festival of Science in Colorado Springs, and Adams State University's Zacheis Planetarium Grand Re-Opening and San Luis Valley School Festival in Alamosa, Colo.
Learn more about our education programs here.
This article is part of Space Watch: April 2013 (Volume: 12, Issue: 4).
---
Posted in Year In Review (archive)