Space Foundation News
---
Ruppersberger Addresses Cyber Threats
Written by: developer
The Honorable C.A. "Dutch" Ruppersberger (D-MD) was a featured speaker at the Space Foundation's Cyber 1.3 conference on April 8 at The Broadmoor Hotel in Colorado Springs, Colo., and held in conjunction with the 29th National Space Symposium.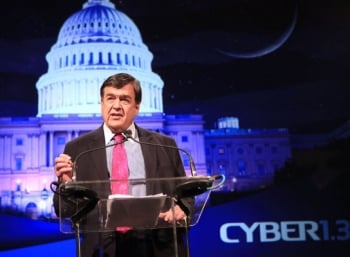 Ruppersberger is the Ranking Member, U.S. House Permanent Select Committee on Intelligence, and he opened his remarks by saying, "We are getting attacked on a regular basis."
He detailed some of his concerns, saying:
Cyber attacks from China are nonstop and very serious 
There are 3,000 daily cyber attacks on Visa 
Cyber command estimates at least $400 billion lost in the U.S. due to cyber attacks
He continued, "Terrorists might not be able to take out a satellite, but they can wreak havoc in a cyber attack. Eighty percent of our network in the U.S. is controlled by a handful of providers. Government must work with the private sector."
"I believe Congress is standing in the way of protecting us from cyber attacks," Ruppersberger said. "We are marking up our bill now and go to the floor in a week to try and get our bill passed, and it includes mandatory minimization of personal information."
Ruppersberger said they will get the necessary votes in the House, but he's not sure about the Senate.
See More
See the video of his presentation here.
See photos here.
---
Posted in Space Foundation News