Space Certification Program
---
Aribio's Space Bio Skin Care Products Now Certified Space Technology™
Written by: developer
Space Foundation Space Certification™ Partner Regentech/Aribio's new line of skin care products, marketed under the Epfora brand has been authorized to carry the Certified Space Technology seal.

Using the Space Technology Hall of Fame® inducted technology – Rotating Wall Bio-Reactor and modified Intrifuge CellXpansion – Regenetech/Aribio produce and harvests proprietary biomolecules and blends them with other cosmetic ingredients to produce Epfora skin care products.
In 2011, the Space Foundation designated Regenetech Inc.'s Intrifuge CellXpansion technology as a Certified Space Technology, following the product's induction into the prestigious Space Technology Hall of Fame in early 2012.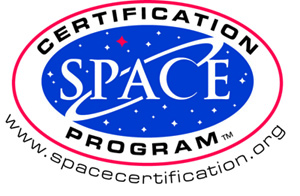 The Space Foundation manages both the Space Certification program and the Space Technology Hall of Fame to recognize products originally developed for space that have been adapted to improve life on Earth.
For more about Space Certification, go to www.spacefoundation.org/programs/Space-Certification.
Intrifuge CellXpansion
For decades, medical researchers have taken advantage of microgravity to develop or grow three-dimensional materials that cannot be made on Earth where gravity causes them to flatten. In the 1980s, NASA researchers developed a device called the "rotating wall bioreactor" that grows human cells in simulated weightlessness. In 2002, Regenetech, Inc., modified the bioreactor to produce its own Intrifuge System™ so it could produce expanded cell tissues for research.
Regenetech, through a special NASA agreement, affordably provides the technology to researchers pursuing rare disease treatments. Regenetech uses its Intrifuge System™ and intellectual property known as CellXpansion™ to develop therapies and conduct further for a wide variety of conditions, including cardio-vascular disease, diabetes, skin ailments and orthopedic applications. The same technology is used for the Epfora skin care line.
About Aribio Inc.
Aribio is established in 2010 and has headquarters in Seoul, Korea. The company's vision is being development engines for new drugs and alternative approaches to help patients with unmet medical needs and its business areas are new drug development, stem cells for regenerative medicine, cosmetics, functional dietary ingredients and natural mineral water.
For more information on Aribio, visit www.aribio.com.
This article is part of Space Watch: June 2013 (Volume: 12, Issue: 6).
---
Posted in Space Certification Program