Space Foundation News
---
Space Foundation Presents at Secure World Foundation Event
Written by: developer
Space Foundation Research Analyst Dr. Mariel Borowitz was a featured panelist at the Secure World Foundation event on July 15, Earth Observation Satellite Data-Sharing: Policies and Partnerships.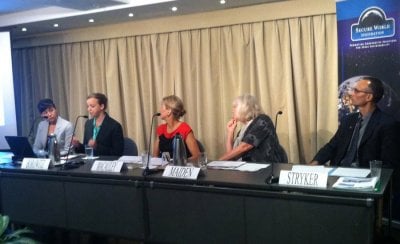 About 70 people attended the discussion, held at the Carnegie Endowment for International Peace in Washington, D.C., including academics and representatives from the Canadian and French embassies and from the Japan Aerospace Exploration Agency (JAXA).
Borowitz presented analysis of the motivation for global changes in data-sharing policies over recent decades. Her findings identified economic, normative and institutional arguments as the most prominent.
Also on the panel was Dr. Molly Macauley, vice president of research and Senior Fellow, Resources for the Future, who emphasized the need for reciprocity in international data sharing, and also highlighted the difficulties experienced by government agencies in attempting to track use of their data.
Other panelists included Dr. Martha Maiden, program executive, NASA Earth Science Data Systems; and Timothy Stryker, chief of policy, plans and analysis, Land Remote Sensing Program (USGS), who concluded the panel, discussing updates to the Landsat program.
The panel was followed by thirty minutes of Q&A, with discussion of commercialization of government earth observation activities, as well as national security and international relations motivations for data sharing policies.
See more about the Secure World Foundation here.
Learn more about Space Foundation Public Policy and Government Affairs here.
Pictured: Space Foundation Research Analyst Dr. Mariel Borowitz (second from left) at the Secure World Foundation panel discussion on Earth Observation Satellite Data-Sharing: Policies and Partnerships
---
Posted in Space Foundation News