Space Foundation Press Releases
---
"There's Snow Place Like Space!"
Written by: developer
COLORADO SPRINGS, Colo. (Nov. 25, 2013) – The Space Foundation will bring space down to Earth for a special day of space history and winter-weather presentations for all ages at the Discovery Center in Colorado Springs on Saturday, Dec. 7, from 10:00 a.m. – 5:00 p.m.
Spend the day learning about the history of the U.S. space program, enjoying our arts and crafts area, joining "Cool Science" for several exciting hands-on demonstrations of extreme cold and weather using liquid nitrogen and solid carbon dioxide, watching special winter weather-related presentations featuring the Discovery Center's Science On a Sphere® and relaxing with cookies and cider.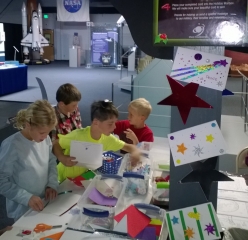 The following activities are included in the price of admission on Dec. 7:
10:00 a.m. – 2:00 p.m. — "Cool Science" hands-on super cold and weather demonstrations for all ages
10:00 a.m. – 4:00 p.m. — special weather-related presentations featuring the Discovery Center's Science On a Sphere®
10:00 a.m. – 4:00 p.m. — make arts and crafts, all ages
10:00 a.m. – 4:00 p.m. — self-guided tours of Discovery Center space exhibits
1:00 – 1:45 p.m. — "From Ike to Obama: U.S. Space Policy," talk by Space Foundation Vice President — Washington Operations Brendan Curry, a discussion of how policy decisions in our nation's capital drive, or sometimes hurt, U.S. space efforts.
About the Space Foundation Discovery Center
The Space Foundation Discovery Center is the region's only space, science and technology attraction, and is located at 4425 Arrowswest Drive in Colorado Springs, just off of Garden of the Gods Road.
The Discovery Center is open Tuesday through Saturday, 10:00 a.m. to 5:00 p.m., and will close for the holiday season on Dec. 14, reopening Thursday, Jan. 2.
Discovery Center daily admission fees are $9 for adults, $7 for seniors (age 65+), $7 for college students with I.D., $3 for children ages 4-17. Military fees are $4.50 for adults with I.D., and $1.50 for children ages 4-17. Children age three years and younger are admitted free.
Bring a food bank donation on Dec. 7 and receive $1.00 off admission per person per donation. Please note that food banks cannot accept expired food donations.
Learn about Discovery Center exhibits by visiting www.spacefoundation.org/museum.
About the Space Foundation
Founded in 1983, the Space Foundation is the foremost advocate for all sectors of space, and is a global, nonprofit leader in space awareness activities, educational programs and major industry events, including the annual Space Symposium, all in support of its mission "to advance space-related endeavors to inspire, enable and propel humanity." Space Foundation world headquarters in Colorado Springs, Colo., features a public Discovery Center including the El Pomar Space Gallery and the Northrop Grumman Science Center featuring Science On a Sphere®, and is a member of the American Alliance of Museums. The Space Foundation has a field office in Houston, and from its Washington, D.C., office, conducts government affairs, publishes The Space Report: The Authoritative Guide to Global Space Activity and provides three indexes that track daily U.S. stock market performance of the space industry. Through its Space Certification™ and Space Technology Hall of Fame® programs, the Space Foundation recognizes space-based technologies and innovations that have been adapted to improve life on Earth. Visit www.SpaceFoundation.org, follow us on Facebook, LinkedIn and Twitter, and read our e-newsletter Space Watch.
---
Posted in Space Foundation Press Releases