Space Certification Program
---
How to Become a Space Foundation Certification Partner
Written by: developer
Space technology touches and enhances practically every aspect of life on Earth. Much of what improves our lives – healthcare, communications, travel, recreation, entertainment – benefits directly from technology originally developed for or improved for space exploration.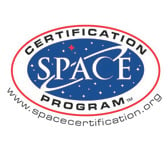 The Space Foundation Space Certification™ Program provides special recognition for the companies that produce and market these products and services. Using the official Space Certification seal provides a marketing edge for partners, demonstrates how space technologies improve life on Earth and makes space more accessible to everyone.
There are three classifications of Space Foundation Certified Products:
Certified Technology Products – Products or services that directly result from space technology or space program development or advances in space technology
Certified Educational Products – Products used in educational environments to stimulate interest in and knowledge about space
Certified Imagination Products – Entertainment products, games or toys that increase interest in and excitement for space and inspire new generations to take an active interest in space
For more about becoming a Space Certification Program partner, contact Rhonda Truett, Space Foundation Director – Global Sales & Certification, at [email protected].
This article is part of Space Watch: December 2013 (Volume: 12, Issue: 12).
---
Posted in Space Certification Program