Cyber Initiatives
---
Overview of Cyber 1.4 Panels
Written by: developer
Cyber 1.4 will continue the in-depth analysis of the Space Foundation's previous cyber conferences, with a focus on Department of Defense and industry cyber activities, human capital development, international dimensions and the evolving challenges posed by cyberspace. Cyber 1.4 is also appropriate for those who are new to the cyber domain, for help in understanding current hot-button issues.
The five Cyber 1.4 panel discussions will provide insight into cyberspace policy issues affecting industry and the government. They are: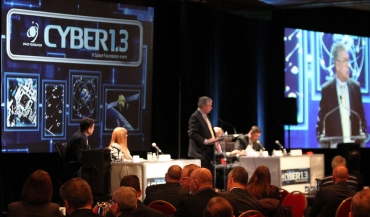 "Truths and Myths About Cyber Defense and Offense"
Moderator: Christopher Ling, Executive Vice President, Booz Allen Hamilton
Panelists:
Lisa Donnan, Vice President, Marketing & Technology, TASC
Tracy B. Gray, Partner, Holland & Hart
William Marion, Chief Technology Officer, Air Force Space Command
Jeffrey C. Snyder, Vice President of Cyber Programs, Raytheon Company
"Government and Industry Working Together in the Cyber Domain"
Moderator: William V. Parker, Special Advisor - International Affairs, Space Foundation
Panelists:
Rohan M. Amin, Ph.D., Director - Global Cyber Security Solutions, Lockheed Martin
Barry Barlow, Vice President, Chief Technology Officer, The SI Organization, Inc
COL Burt A. Biebuyck, USA, Chief, Cyberspace Future Operations Division,NORAD and USNORTHCOM Cyberspace Operations
David Fastabend, Vice President of Advanced Information Solutions, Exelis
"Acquisition, Command and Control at the Speed of Light"
Moderator: Riley Repko, Vice President for Global Cyber Security Strategy, Chemring N.A.
Panelists:
Daniel Ford, D.Sc., Cybersecurity and Mobile Strategist, DMI Inc.
Paul Greene, Founder and President, Mach 1 Development, Inc.
Col. Dean G. Hullings, USAF, Chief, Cyber Superiority Division, Air Force Space Command
Drew Morin, Senior Vice President and Chief Technology Officer, TeleCommunication Systems, Inc.
"Emerging Trends in Cyber Ops and Protocols"
Moderator: Thomas Gardner, Ph.D. (Captain, USN, Ret.), Chief Technology Officer, Scitor Corporation
Panelists:
Joseph Drissel, Founder and Chief Executive Officer, Cyber Engineering Services
Vinit Duggal, Chief Information Security Officer, Intelsat
Kristina Harrington, Director of Signals Intelligence Directorate, National Reconnaissance Office
"We're All in This Together: a Shared Stake in a More Secure Cyber Domain"
Moderator: Dewey Houck, Vice President and General Manager, Electronic & Information Solutions, The Boeing Company
Panelists:
Jandria Alexander, Principal Director, Cyber Security Subdivision,The Aerospace Corporation
Dean Cheng, Senior Researcher, Heritage Foundation
James Garcia, Director of Cyber Services, MainNerve, LLC
Matthew Light, ES-ISAC Cybersecurity Specialist, Critical Infrastructure Protection, North American Electric Reliability Corporation
Please see the complete Cyber 1.4 agenda here.
Register Now
The Space Symposium and Cyber 1.4 website provides information in 71 languages, and includes the complete agenda and speakers list, plus registration information. Register now for either Cyber 1.4 or the 30th Space Symposium, or save money by registering for both together at www.SpaceSymposium.org.
Co-sponsors
a.i. solutions; Aeroflex Microelectronic Solutions; Aerojet Rocketdyne; Airbus Group, Inc.; Analytical Graphics, Inc. (AGI); Arianespace; ATK; Ball Aerospace & Technologies Corp.; Booz Allen Hamilton; Colorado Space Business Roundtable (CSBR); Colorado Space Coalition; EaglePicher Technologies, LLC; El Pomar Foundation; Euroconsult; Exelis; FedEx; Fisher Space Pen; Government Executive Media Group; High Impact Creative; Holland & Hart LLP; Inmarsat; Intelsat General Corporation; Launchspace; Lockheed Martin; Maui Economic Development Board (MEDB); MetiSpace Technologies, Inc.; Millennium Engineering and Integration Company; Moog Inc.; Müller-BBM VibroAkustik Systeme, Inc.; National Science Teachers Association; Northrop Grumman; Orbital Sciences Corporation; Orbital Technologies Corporation (ORBITEC); PAE; Pulsed Harmonix; Raytheon; Scitor Corporation; Secure World Foundation; SES Government Solutions; SLS and Orion Industry Team; Space Generation Advisory Council (SGAC); SpaceX; Spincraft; SSL; Stellar Solutions,Inc.; The Boeing Company; The SI Organization; United Launch Alliance; and Universities Space Research Association (USRA); Aviation Week, SatNews Publishers; SpaceNews and TechBriefs Media Group are media partners.
This article is part of Space Watch: May 2014 Special Edition - 30th Space Symposium (Volume: 13, Issue: 5.1).
---
Posted in Cyber Initiatives