Space Foundation News
---
31st Space Symposium Wraps Up with Space Technology Hall of Fame Ceremonies
Written by: developer
The Space Foundation's 31st Space Symposium will culminate on April 16 with ceremonies celebrating the induction into the Space Technology Hall of Fame® of two innovations developed for space that now improve life on Earth.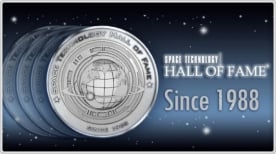 The inductees are:
Chronos Vision Technology, a refractive eye surgery device used internationally to improve vision
Seismic Damper Technology, a motion control mechanism used to protect structures against the effects of high winds and earthquakes
The induction will be held during the 31st Space Symposium at The Broadmoor in Colorado Springs, Colo., USA. These three events will honor the inductees:
The Space Technology Hall of Fame® Private Induction Ceremony
The Space Technology Hall of Fame® Cocktail Reception, co-sponsored by Airbus Defence & Space
The Space Technology Hall of Fame® Dinner, co-sponsored by SpaceX and featuring guest speaker Mark McCaughrean, Ph.D., Senior Scientific Advisor in the Directorate of Science and Robotic Exploration for the European Space Agency (ESA)
The Private Induction Ceremony is by invitation only, and the reception and dinner are open to all Space Symposium attendees.
The Space Foundation's Space Technology Hall of Fame was established in 1988 to increase public awareness of the benefits that result from space exploration programs and to encourage further innovation. Since then, 73 technologies have been inducted.
---
Posted in Space Foundation News