Space Foundation Press Releases
---
Math, Love and Rovers – Only at the Space Foundation Discovery Center, February 2016
Written by: developer
COLORADO SPRINGS, Colo. (Feb. 5, 2016) – February is going to be an exciting month at the Space Foundation Discovery Center, filled with math, love and rovers. Fun and interactive activities and meet ups designed for all ages will bring together the Colorado Springs community this month.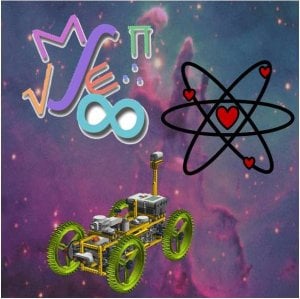 The new traveling exhibit, MathAlive!, presented by Raytheon, recently opened and a special Star Days event will focus on all things math. MathAlive! is designed to inspire, to spark the imagination, to reveal not only math at work but the endless possibilities of math. Designed for families and students, the exhibition brings to life the real math behind what kids love most – video games, sports, fashion, music, robotics and more – and creates interactive and immersive experiences that bring to life the math at work in each, whether in design, application or use. Other math-centric activities will also be available Saturday, Feb. 6, from 10:00 a.m. – 5:00 p.m. for this special Star Days event. This exhibit is free for military personal and their families with proper I.D.
An adults-only evening will be offered on Friday, Feb. 12, for a 21+ Space Mixer: The Science of Love. This social science night is for adults only and will explore the science of love, with experiments involving chocolate and roses. Bring your sweetie or best buddy for this unique science themed meet up. Admission cost is $20 a person, with light bites and beverages available.
Tesla's Toolbox also returns in February with a Mars Rover Design Challenge. Sponsored in part by Uwingu, this special workshop will have tinkerers using a supplied Lego NXT 2.0 kit to create an end effector to pick up an object on our simulated Martian terrain. A $10 workshop fee applies for this project, plus Discovery Center admission.
Keep up to date with all the great events at the Space Foundation Discover Center on our website calendar: www.spacefoundation.org/events/calendar.
About the Discovery Center
The Space Foundation Discovery Center is the region's only space, science and technology attraction, and is located only five minutes from Garden of the Gods Park, at 4425 Arrowswest Drive, Colorado Springs.
For fees and hours, visit www.spacefoundation.org/museum, or call the Space Foundation at 719.576.8000.
About the Space Foundation
Founded in 1983, the Space Foundation is the foremost advocate for all sectors of space, and is a global, nonprofit leader in space awareness activities, educational programs and major industry events, including the annual Space Symposium, in support of its mission "to advance space-related endeavors to inspire, enable and propel humanity." Space Foundation World Headquarters in Colorado Springs, Colo., USA, has a public Discovery Center, including El Pomar Space Gallery, Northrop Grumman Science Center featuring Science On a Sphere® and the Lockheed Martin Space Education Center. The Space Foundation has a field office in Houston and conducts government affairs from its Washington, D.C., office. It annually publishes The Space Report: The Authoritative Guide to Global Space Activity, and through its Space CertificationTM and Space Technology Hall of Fame® programs, recognizes space-based innovations that have been adapted to improve life on Earth. Visit www.SpaceFoundation.org, follow us on Facebook, Instagram, LinkedIn, Pinterest, Twitter, Google+,Flickr and YouTube, and read our e-newsletter Space Watch.
---
Posted in Space Foundation Press Releases