Spotlight
---
Share Your Expertise – Volunteer at the Discovery Center!
Written by: developer
With the approach of summer, the Space Foundation is looking for space-enthusiasts to join our team of volunteers.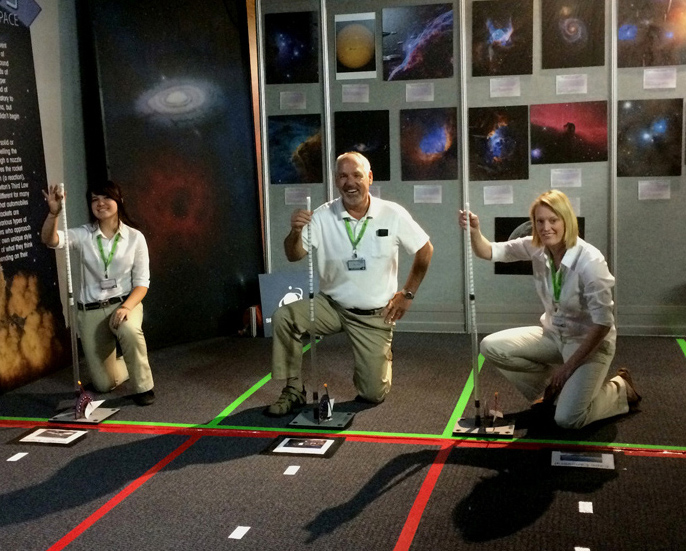 Volunteers assist with everything from interacting with youth group camps visiting our Discovery Center, to putting computer skills to use in our AGI Space Missions Simulation Lab. We can use your help in our Mars Robotics Laboratory helping visitors drive a model rover on our simulated Martian terrain. You might find it fascinating to learn to give presentations using our Science On a Sphere®. From greeting visitors in the Discovery Center to handling light security duty, there is something to appeal to everyone.
Some of our volunteers work as little as two four-hour shifts per month, and some as many as four full days a week. You'll enjoy meeting the fascinating people who volunteer their time to share their expertise with the public.
To volunteer with the Space Foundation, you must:
Be at least 18 years old
Dress appropriately, in accordance with your particular job or activity
Communicate clearly with the Space Foundation about your expectations - we are happy to be flexible with your schedule if you communicate with us
Provide two or more references if you have not volunteered with us before
Understand that the volunteer coordinator will evaluate your skills and preferences in order to place you in the best role
Background check completed (we supply the link and information)
Abuse Prevention Systems Online Training completed (we supply training)
There may be additional requirements based on a particular job or activity.
For more information, please visit our website here, or contact our Volunteer Program Coordinator Jennifer Picard at [email protected]
This article is part of Space Watch: June 2016 (Volume: 15, Issue: 6).
---
Posted in Spotlight