Space Awareness
---
From the Tall to the Small – We all Need Space
Written by: developer
From the small to the tall, space technology benefits all of us on Earth. Jockey Willie Shoemaker and NBA player Kareem Abdul Jabbar explain in this short PSA from the 1980s that what we learn up there in space, helps us all down here.
In the early 1980s, the Space Foundation teamed up with the unusual pair of athletes to demonstrate the use of space in everyday life. In this particular PSA, the two discuss scratch proof lenses originally designed for the Apollo program. Today, these lenses are used on cameras, glasses, sunglasses and even goggles.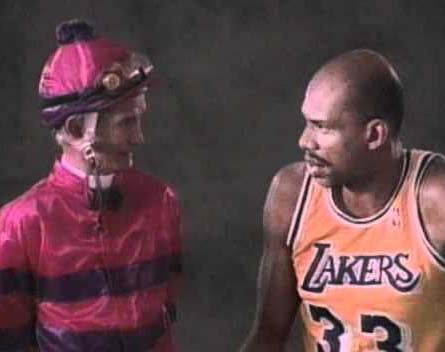 Technologies inducted into the Space Technology Hall of Fame® using similar technologies include:
Scratch Resistant Lenses – 1989
VisiScreen (Ocular Screening System) – 2003
LADARVision 4000 – 2004
Eagle Eyes Optics – 2010
Chronos Vision Eye Tracking Device – 2015
Celebrating 30 years, the Space Technology Hall of Fame® increases public awareness of the benefits of space exploration and encourages further innovation by recognizing individuals, organizations and companies that effectively adapt and market technologies originally developed for space to improve the quality of life for all humanity.
View the full PSA here.
This article is part of Space Watch: December 2016 (Volume: 15, Issue: 12).
---
Posted in Space Awareness