Public Policy and Government Affairs
---
Biweekly Washington, D.C., Update for the Week Ending October 2, 2020
Written by: Hanh Le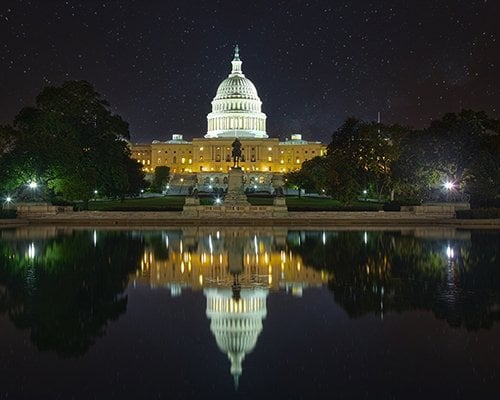 On Thursday night, the Senate passed a short-term continuing resolution to avoid a government shutdown. The bill extends $1.4 trillion in government funding until December 11. Earlier in the week, the Senate Committee on Commerce, Science, and Transportation held a hearing on NASA missions and programs.
Sign Up for Space Symposium 365
Space Symposium 365 is a new initiative that will premiere this month, offering expanded programming and collaborative opportunities that will continue to bring the global space community together.
The series will: showcase exclusive interviews, panels, discussions, and roundtables with newsmakers, investors, experts, and other space professionals; bridge conversations between Civil, Commercial, Military, and International Space; and, examine emerging priorities, missions, and policies driving the global space economy.
Register here to learn more, and follow all the key events and discussions from industry professionals, 365 days a year.
Other Space Foundation Highlights
Space Policy Pod: Episode 11 – Conner Prochaska
Our latest episode features Conner Prochaska, Chief Commercialization Officer with the U.S. Department of Energy, and Director, Office of Technology Transitions.
In his current role, Mr. Prochaska advances the economic, energy, and national security interests of the United States by expanding the commercial impact of the Department's research and development portfolio.
In this episode, Prochaska explains the role of the Department of Energy in space exploration and discusses the unique set of capabilities that the department offers to advance the Artemis program.
Space Industry Updates
Space Policy Updates
The Satellite Industry Association released recommendations to stand up a new legal framework, such as an open catalog of commercial satellite tracking data. (Breaking Defense, Sept. 24)
The British government is considering alternatives to providing services for a satellite navigation system. (SpaceNews, Sept. 25)
NASA signed an agreement with Italy to cooperate on the Artemis human lunar exploration program. (SpaceNews, Sept. 25)
Wednesday, Sept. 23
Senate Appropriations Committee (Commerce, Justice, Science, and Related Agencies Subcommittee) Hearing on the Oversight of NASA's Budget and Activities Summary
The witness was NASA Administrator Jim Bridenstine.
This will be the first in an ongoing series of hearings on the Artemis program.
Overall there was support from the Senate for on-orbit assembly and manufacturing, satellite servicing, and orbital debris missions.
Many Senators expressed concerns about the budget with regard to defunding the STEM Office of Education, the WFIRST telescope mission, and NASA's Earth Science Division.
Senators also expressed uncertainties about meeting the 2024 goal of the Artemis program.
Administrator Bridenstine said 70,000 civil servants and contractors at NASA also want an appropriations bill to pass.
Wednesday, Sept. 30
Senate Committee on Commerce, Science, and Transportation Hearing on NASA Missions and Programs
The witness was NASA Administrator Jim Bridenstine.
Many senators expressed support for NASA's Artemis program and low-Earth orbit commercialization. Several senators also were concerned with passing the appropriations bill, as a continuing resolution is not ideal for meeting the 2024 timeline. There were also some concerns about STEM engagement programs, the current impacts of COVID-19 on the space workforce, and space debris.
In the Q&A, Administrator Bridenstine reassured the Senate that the Artemis program is on track from now until February 2021, but stated that it will be difficult to meet the 2024 timeline without appropriations funding. He also expressed that authorization bills are important to show long-lasting bipartisan support.
Additional Space Foundation Resources
The latest Space4U Podcast episode features Drs. Robert Gregg & Toby Elery discussing the robotic prosthesis they've designed with motors originally developed for use on the International Space Station.
The Space Report Quarter 2 is available here.
Online learning, lesson plans, and video lessons for students grades K–12 are available at the Discovery Center website.
Further Reading
SpaceNews Op-ed | Social distancing, self-isolation, and … space debris?
By: Mike Lindsay
The op-ed discusses lessons learned from the pandemic that we can apply to space debris, as both are issues that we collectively face as a society.
Space Trivia
Sixty-three years ago, on October 4, 1957, the USSR launched Sputnik I, the world's first artificial satellite. The launch marked the beginning of the space race between the United States and the Soviet Union. (Source: NASA)
---
Posted in Public Policy and Government Affairs