Spotlight
---
James and Webber to Discuss Cyberspace
Written by: developer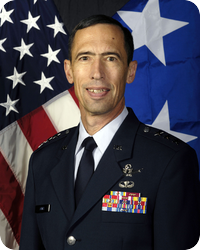 The 26th National Space Symposium will feature the leader of the organization that manages the nation's national security cyberspace mission and the leader of the Air Force's operational space activities discussing where the domains of space and cyber intersect.
Maj. Gen. Richard Webber, USAF, commander, 24th Air Force, who has oversight responsibility for AFSPC's cyberspace mission, and Lt. Gen. Larry James, USAF, commander, Joint Functional Component Command (JFCC) – Space, United States Strategic Command, and commander, 14th Air Force (Air Forces Strategic), Air Force Space Command, will speak on how cyberspace must support troops on the ground and on their common needs, opportunities, and obstacles. Both men will also speak at the Cyber 1.0 Conference.
Maj. Gen. Richard E. Webber is the Commander, 24th Air Force, Lackland Air Force Base, Texas. General Webber is responsible for the Air Force's newest numbered air force which will provide combatant commanders with trained and ready cyber forces to plan and conduct cyberspace operations, and to extend, maintain and defend the Air Force portion of the global information grid. The general directs the activities of two wings and two combat communications groups, located at Lackland AFB, Tinker AFB, Okla., and Robins AFB, Ga.
Webber was commissioned a second lieutenant upon graduation from the U.S. Air Force Academy in 1975. He has commanded a missile squadron, support group, missile operations group, and missile wing equivalent and two space wings. His staff assignments include Headquarters North Atlantic Treaty Organization International Military Staff, the Air Staff, Headquarters Strategic Air Command, Headquarters Air Force Space Command, and vice commander of the Aerospace Command and Control & Intelligence, Surveillance and Reconnaissance Center. Webber is a command space and missile operator with qualifications in the Minuteman II, Minuteman III, Global Positioning Satellite, and Counter Communications System weapon systems. Prior to his current assignment, he served as assistant deputy chief for Air, Space and Information Operations, Plans and Requirements, Headquarters U.S. Air Force, Washington, D.C.
As the Air Force's operational space component to the U.S. Strategic Command, James leads more than 20,500 personnel responsible for providing missile warning, space superiority, space situational awareness, satellite operations, space launch, and range operations. As commander, JFCC SPACE, he directs all assigned and attached U.S. Strategic Command space forces providing tailored, responsive, local and global space effects in support of national, U.S. Strategic Command, and combatant commander objectives.
James, pictured, entered the Air Force as a distinguished graduate of the U.S. Air Force Academy in 1978. His career has spanned a wide variety of operations and acquisition assignments, including Space Shuttle payload specialist, Air Staff program element monitor, Global Positioning System satellite program manager and chief of operations, 14th Air Force. James has commanded at the squadron, group, and wing levels, and was vice commander of the Space and Missile Systems Center. He has served on the staffs of Headquarters U.S. Air Force, U.S. Space Command, and Air Force Space Command. He also served as the senior space officer for Operation Iraqi Freedom at Prince Sultan Air Base, Saudi Arabia. Prior to his current assignment, he was vice commander, 5th Air Force, and deputy commander, 13th Air Force, Yokota Air Base, Japan.
This article is part of Space Watch: January 2010 (Volume: 9, Issue: 1).
---
Posted in Spotlight