Space Foundation News
---
Space Foundation Kicks Off New Horizons in Fairbanks
Written by: developer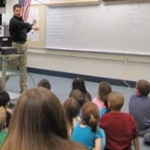 FAIRBANKS, Alaska (Feb.14, 2012) – The Space Foundation kicked off a New Horizons community program in Fairbanks, Alaska, Monday at three elementary schools. The education program, which lasts until Saturday, includes classroom sessions and assemblies at schools, teacher professional development, community events, receptions and media opportunities – all using space themes to advance science, technology, engineering and mathematics (STEM) education.
Coordinated by Marci Ward, a third-grade teacher at Fairbank's Immaculate Conception School and a member of the Space Foundation's prestigious Teacher Liaison group, the New Horizons event is part of the Space Foundation's education initiative. The Space Foundation team in Alaska this week includes Vice President Marketing and Communications Janet Stevens and Space Education Specialists Bobby Gagnon and Elias Molen.
Monday's sessions, taught by Gagnon and Molen, reached about 225 children at Hunter, Ladd and North Pole Elementary Schools, which are all part of the Fairbanks North Star Borough School District.
On Tuesday, the Space Foundation will spend the day at Immaculate Conception School and Monroe High School, presenting at assemblies, meeting with the Science Club and participating in a community reception. Tuesday evening, the Space Foundation will have a table display and answer questions preceding public lecture on earthquakes.
Events planned for the rest of the week include:
Two Kiwanis Club meeting presentations
A public presentation on the Space Foundation and the future of space exploration at the Noel Wien Public Library
Classroom sessions and assemblies at six more schools
A full-day teacher workshop
Media interviews
The Space Foundation New Horizons program is made possible by a number of local Fairbanks sponsors, including primary supporters Pogo Mine and Fairbanks North Star Borough School District.
Supporting sponsors include: Denali State Bank, Fairbanks Kiwanis Club, Chena Kiwanis Club, Fairbanks Economic Development Corporation, The Optimist Club, Fairbanks Memorial Hospital, Vend Alaska, Mike Helmbrecht, DDS, Fountainhead Hotels, Marci Ward, Becky Anderson, Ted and Gina Hoppner, Grace Minder, Mary Ellen Koehller, Mike Stepovich and Sonia Younkers. In addition, Space Foundation Space CertificationTM partner Eagle Eyes Optics has donated sunglasses featuring space technology lenses for demonstrations and prizes.
To learn about New Horizons, click here.
Pictured: Space Foundation Space Education Specialist Bobby Gagnon tells North Pole Elementary students about space food
---
Posted in Space Foundation News