Education
---
Grant from The Boeing Company Funds Student Robotics Program
Written by: developer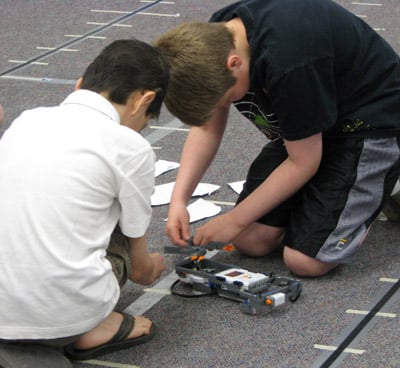 Nearly 100 students, teachers and family members attended a robotics exhibition hosted by the Space Foundation and sponsored by The Boeing Company at the Space Foundation Discovery Institute in Colorado Springs, Colo., in May. The exhibition was the culminating activity for the students and teachers participating in this special program.
Through a grant provided by The Boeing Company, 12 teachers from the Colorado Springs area were selected to participate in a robotics program with the purpose of seeding robotics clubs in their elementary and middle schools. The 12 teachers were required to attend two Saturday trainings hosted by the Space Foundation to learn the basics of LEGO NXT MindStorms programming and how to set up a robotics club at their school. The teachers were supplied with two robot kits, two resource kits, Bluetooth dongles and two activity mats to start their clubs.
"The great thing about this exhibition is not only for the students to show what they've learned, but for them to see what other students have been able to do with their robots," said Bryan DeBates, director-education for the Space Foundation. "The purpose of this grant from Boeing is to seed robotics clubs and to get students interested in robotics. We hope these students will continue to be involved in robotics as they progress through school. And it's good for them to meet other students who share an interest in robotics."
The May exhibition also gave students the chance to operate LEGO NXT MindStorms robots that are part of the Mars Yard and Robotics Lab at the Space Foundation Discovery Institute. The lab is avilable to schools for the purpose of running missions to support in-class learning. For information on booking a mission in the Mars Yard, please contact Cheryl Ledford at 719.955.3240, or [email protected].
This article is part of Space Watch: June 2012 (Volume: 11, Issue: 6).
---
Posted in Education