Cyber Initiatives
---
If You Missed Cyber 1.3, Watch Online Videos of Panel Discussions
Written by: developer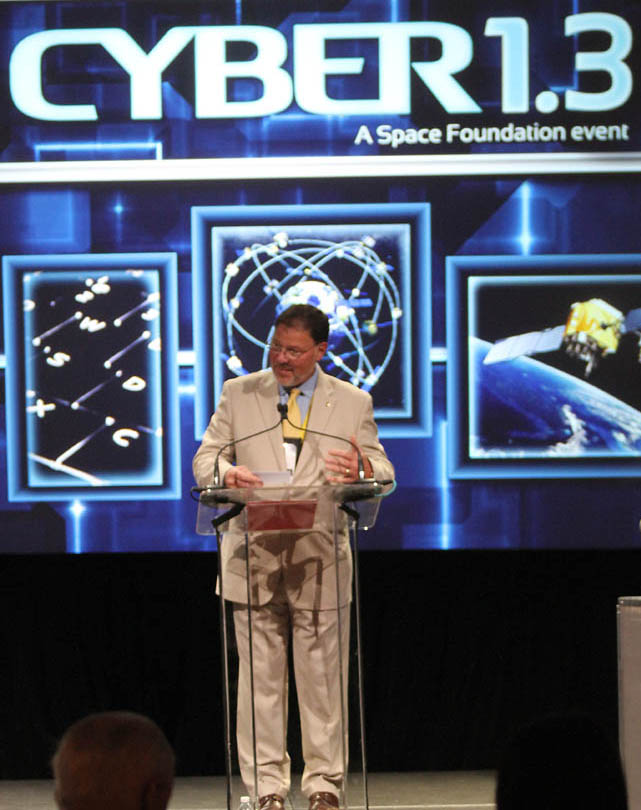 Many people who had planned to attend the Space Foundation's Cyber 1.3 conference, held April 8 at The Broadmoor Hotel in Colorado Springs, Colo., had to change their plans and were unable to attend this year. However, they can see video of all the panel discussions and speaker presentations online here.
Pictured right: Space Foundation Chief Executive Officer Elliot Pulham opens the Cyber 1.3 conference on April 8.
Cyber 1.3 Discussion Topics and Panelists
Watch video here of the panel Cyber Pearl Harbor: Who-What-How? The panel was moderated by Henry (Trey) A. Obering, III, senior vice president, Booz Allen Hamilton, and comprised:
James E. Armstrong, Jr., Ph.D., chief information officer, Missile Defense Agency Space Systems Company
Elizabeth Wilems Clark, vice president, IT & chief information officer, Lockheed Martin Space Systems Company
John Gilligan, president, Gilligan Group
Steve Winterfeld, chief technology officer, TASC Inc.
Click here to see video of Collateral Damage in Cyber Operations, which discussed potential collateral damage from cyber attacks. The panel was moderated by Brendan Curry, vice president - Washington operations, Space Foundation, and featured remarks from Kurt Baumgartner, senior security researcher, Americas, Global Research and Analysis Team, Kaspersky Lab, and Douglas DePeppe, principal, i2 Information Security, co-founder, Western Cyber Exchange.
Watch Joint Cyber Operations with Friends and Allies, with panelists:
Col. Jörg Dronia, branch chief, strategic planning air/space/cyber, German Air Force
Gp. Capt. Adrian S. Frost, OBE, United Kingdom senior military, United States Cyber Command
Col. Thomas French, USAF, deputy director, Space Protection Program, Air Force Space Command
Maj. Kevin S. Kuciapinski, USAF, chief, Applied Engineering Colorado Site Engineering & Research Facility, Aerospace Data Facility, National Reconnaissance Office
See The Digital Natives and Their Solutions panel, moderated by Daniel (Dan) Mosqueda, director, Air Force Programs, Universities Space Research Association, and featuring:
Joe Heagerty, business development director, Security & Information Operations Business Unit, Cyber Solutions Division, Northrop Grumman Information Systems
CMSgt. Linus Jordan, USAF, command chief master sergeant, Air Force Space Command
The last panel discussion of the conference, before closing remarks by The Honorable C.A. "Dutch" Ruppersberger (D-MD), was Humans Wanted? Humans Needed? The Future of Cyber, moderated by Jim Kohlenberger, president, JK Strategies, with panelists: Peter G. George, president, General Dynamics Fidelis Cybersecurity Solutions; Steven K. Hawkins, vice president, Information Security Solutions, Raytheon Company; and Antonio Nucci, Ph.D., chief technology officer, Narus.
Missed the 29th National Space Symposium, too? Watch the videos
See video of speakers and presentations from the 29th National Space Symposium here.
This article is part of Space Watch: May 2013 (Volume: 12, Issue: 5).
---
Posted in Cyber Initiatives