Space Foundation News
---
Gen. Shelton Tours Space Foundation Discovery Center
Written by: developer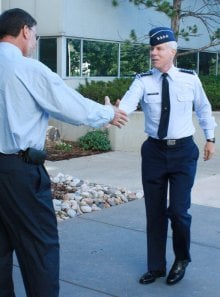 Gen. William L. Shelton, USAF, commander, Air Force Space Command, Peterson Air Force Base, Colo., toured the Space Foundation Discovery Center in Colorado Springs today and learned what the Space Foundation is doing to support STEM education.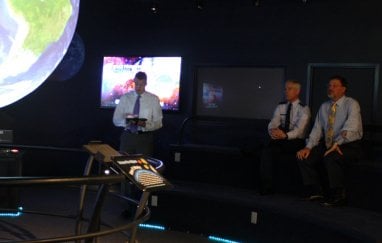 The visit included a demonstration of Science On a Sphere® (SOS), in the Discovery Center's Northrop Grumman Science Center. SOS was developed by the National Oceanic and Atmospheric Administration (NOAA) and uses special software, satellite imagery and four projectors to render images onto the global surface that provide dramatic, full-motion views of the Earth, Sun, moons and planets in space.
SOS provides a dramatic display of our universe and is an ideal educational instrument for teaching science, math and geography, easily translating sometimes complex environmental processes in a way that is of interest to people of all ages.
The Space Foundation Discovery Center is open to the public; find information about hours and exhibits here.
Support the work of the Space Foundation here.
Pictured: Gen. William Shelton with Space Foundation CEO Elliot Pulham, and viewing Science On a Sphere® with Pulham and Space Foundation Vice President – Education and Discovery Iain Probert.
---
Posted in Space Foundation News