Spotlight
---
Meet Featured Volunteer Joan Powers
Written by: developer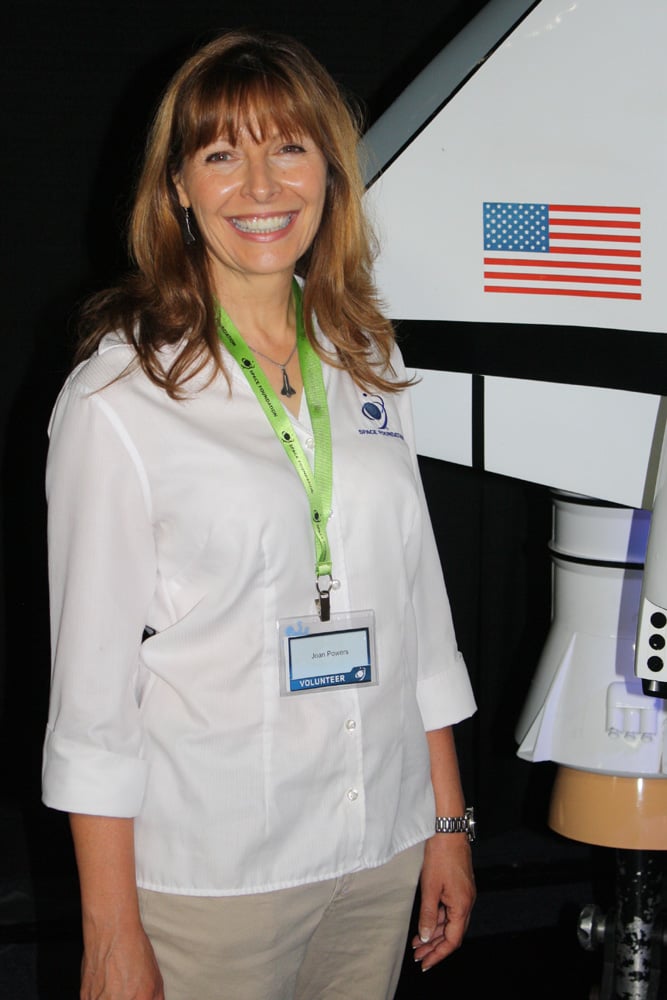 Joan Powers is a self-proclaimed space geek. That might seem odd for a certified public accountant, but when she's not crunching numbers during her day job, she likes to do something that fuels her passion for all things space - she volunteers with the Space Foundation!
Since February of 2012, Joan has been a dedicated volunteer with the Space Foundation. She started by volunteering at the Space Symposium, the premier annual gathering of the global space community held every spring at The Broadmoor Hotel.
With more than 9,000 participants, the four-day Space Symposium requires more than 300 volunteers just like Joan, who may work from as little as four hours to as much as several months gearing up for this event. Then, when we opened the Discovery Center in October of 2012, Joan jumped at the chance to volunteer as a docent, where she gets to answer questions about the exhibits in the El Pomar Space Gallery – Joan's favorite exhibit is the Moon rock! - and assist with Science On a Sphere®.
She has also volunteered to help with special events such as the Space & Science Fiction Halloween Ball, an annual fundraising event to benefit Space Foundation STEM Education programs and Summer of Discovery, our ten-week, summer-long program of special themed activities at the Discovery Center.
Joan's passion for space began at a very early age and was encouraged by her mother, who shared the same passion. As a young child, she vividly remembers the Moon landing in 1969 and the hardships encountered by the crew of the Apollo 13 mission, both of which made a huge impression on her.
She has tried to instill a love for learning in her two children, now ages 18 and 20, by exposing them to space-related adventures such as a trip to see the final launch of the Space Shuttle program when Atlantis launched from Kennedy Space Center in July of 2011. She was also lucky enough to witness the final launch of the Space Shuttle Discovery in February of 2011, something she describes as one of the most emotional moments of her life.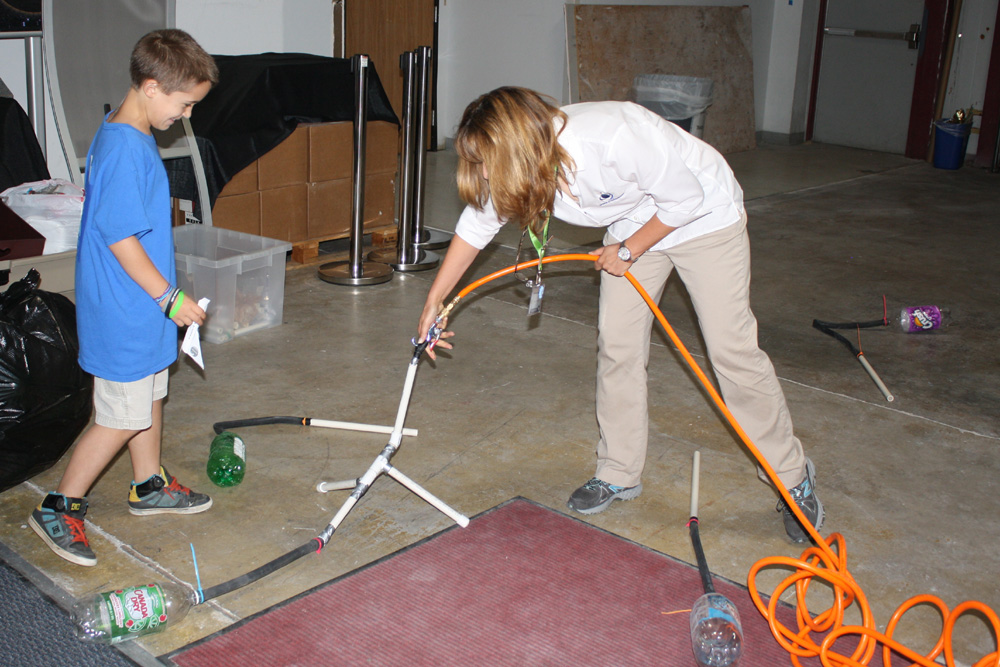 It's obvious that Joan is fulfilled by her work with the Space Foundation and she encourages anyone who has even a small amount of spare time and an interest in space and science to volunteer.
"You have no idea of the quality of people you can meet to further your passion," she says. Her own highlights include meeting Dr. Neil deGrasse Tyson and running into Roger Hunter, project manager of the Kepler Mission, who took time to chat with her about the mission and NASA's search for habitable planets while charging his cell phone at the Space Symposium. "Not to mention, all the other volunteers you meet, many of whom are top-notch space industry folks," she adds.
The benefits of volunteering are numerous. To read more about them and how you can volunteer and help further the Space Foundation's mission to advance space-related endeavors to inspire, enable and propel humanity, visit http://www.spacefoundation.org/who-we-are/volunteer/.
Pictured, above right: Joan Powers helps Andrew Griffiths, a young Discovery Center visitor, as he prepares to launch his stomp rocket during the Space Foundation's 2013 Summer of Discovery.
This article is part of Space Watch: September 2013 (Volume: 12, Issue: 9).
---
Posted in Spotlight