Space Awareness
---
Buzz Aldrin Heads Lineup of Presenters at Space Foundation Yuri's Night
Written by: developer
Guest article by Stephen Black, Sr. Director, Advanced Products and Solutions, ASRC Federal
The Space Foundation's first Yuri's Night celebration commemorated the first human orbital space launch of Russian cosmonaut Yuri Gagarin on April 12, 1961, and the inaugural launch of America's Space Shuttle Mission STS-1, with astronauts John Young and Robert (Bob) Crippen on April 12, 1981. This was a special night for the sold-out crowd of space veterans, Space Foundation supporters and guests.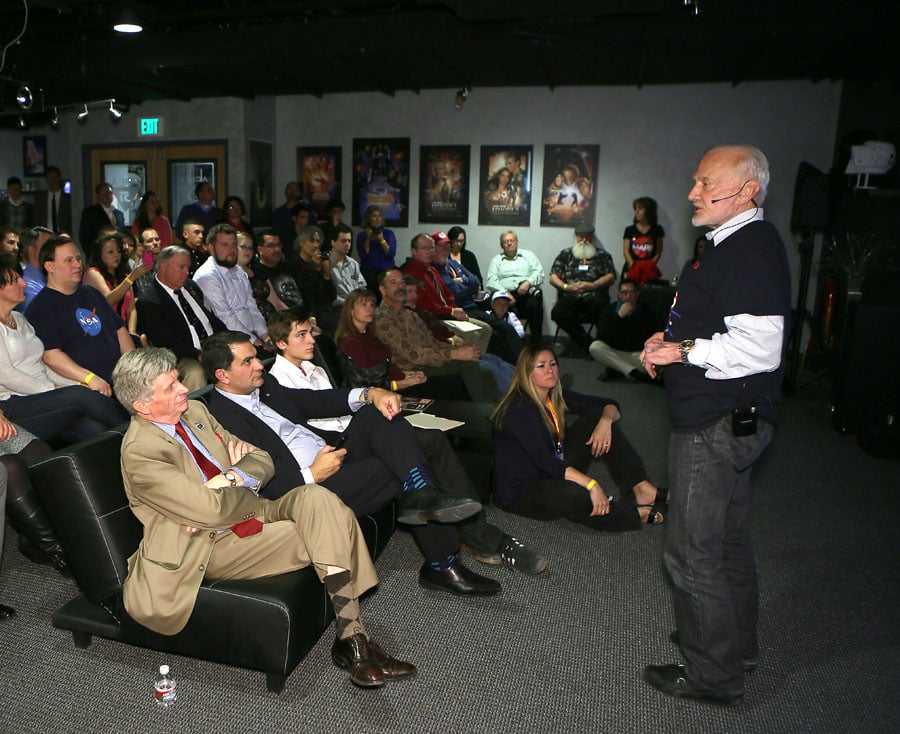 Many of the young guests who came to view past and recent space exploration history, saw displays of artifacts from Project Mercury to Space Shuttle and current spacecraft. They got a glimpse of, and listened to presentations by, representatives of three generations of astronauts, including Apollo 11 legend Dr. Buzz Aldrin (pictured).
It was good to see our former astronauts and space heroes making presentations directed toward the new generations, with hope that the talks and displays will play a role in inspiring the youngest of the attendees to enter into the science and technology fields that America desperately needs. Additionally, it is hoped their words will inspire the young engineers and scientists in the audience to implement the visions presented of future space exploration, leading to planetary missions.

Dr. Kathryn Thornton, veteran Space Shuttle astronaut, and Aldrin, Apollo 11 astronaut, described future space exploration visions to the capacity crowd. Other NASA astronauts presenting at Space Foundation Yuri's Night were: CAPT Jeffrey Ashby; Leroy Chiao, Ph.D., and Lt. Gen. Susan Helms.
For the veteran group of members and guests, the evening brought back memories of the glory days of the U.S. Space Program, the race for the Moon and the many triumphs of the Space Shuttle Program from the beginning. Many of us were lucky enough to have seen Neil and Buzz step off that Lunar Module ladder onto the Moon's surface to be the first men there, and most importantly, they were Americans! To think on this night, standing 10 feet in front of me, there is Buzz telling us all how America should be proceeding to get to Mars. What a time to have lived.
For a very lucky few of us there, April 12, 1981, was a glorious day when we were members of the team that successfully launched the most magnificent flying machine ever built, Space Shuttle Columbia/OV-102, for the first time into orbit with astronauts on-board. No rocket powered unmanned test flights for this system. The first launch/mission was to be success or spectacular failure, and not much room in between. The STS-1 mission was a spectacular success along with the many achievements that followed throughout the life of the Space Transportation System program. It was great to celebrate it!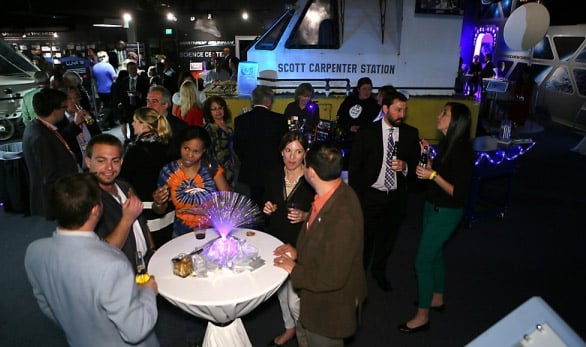 This article is part of Space Watch: May 2015 (Volume: 14, Issue: 5).
---
Posted in Space Awareness