Inducted individuals:
Donald Friedman
Dr. Michael Mirowski
Dr. Morton Mower
William Staewen
Inducted organizations:
Cardiac Pacemakers, Inc.
Intec Systems, Inc.
JHU/ Applied Physics Laboratory
Medrad
NASA Goddard Space Flight Center
Sinai Hospital
Sudden cardiac death (SCD) takes the lives of nearly a half million Americans each year. Some 80 percent die before medical help arrives and those who survive have faced a two-year heart attack recurrence rate as high as 55 percent. The Automatic Implantable Cardiovertor Defibrillator (AICD) gave new hope to these victims by lowering the recurrence rate to less than 3 percent.
This heart assist system, derived from NASA's space circuitry technology, works to prevent the erratic heart action known as arrhythmia. The AICD is a cardiac pacemaker device incorporating micro miniature circuits with built-in microprocessor capability and the ability to communicate. Sensing heart activity, it recognizes the onset of arrhythmia and delivers corrective electrical countershock to restore normal rhythmic heartbeat. Intec Systems Inc. and Medrad Inc. of Pittsburgh originally developed the AICD in the early 1970s, in conjunction with researchers at Sinai Hospital, Baltimore. NASA funded development of an AICD recording system and an independent design review of the system, both conducted by the Applied Physics Laboratory of Johns Hopkins University. First implanted in a human in 1980, development of more advanced models have continued through the years. Cardiac Pacemakers, Inc., (CPI) St. Paul, Minnesota, has spearheaded these efforts after purchasing Intec Systems in 1985. CPI was the first company to receive FDA approval for their manufacturing and distribution of this life saving technology.
Related Technologies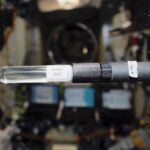 Inducted In: Featured, Health, Public Safety
Canada's Bubble Technology Industries (BTI) created the Bubble Detector to detect and record levels of neutron radiation exposure to humans. The detector is a small vial about the size of your thumb. It is small enough and portable enough to…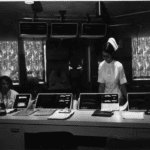 Inducted In: Featured, Health, Medicine
Founded in 1958, Spacelabs Healthcare approached NASA with their concept of a real-time system for monitoring astronauts' vital signs while in orbit, including a telemetry system to simultaneously transmit the data back to Earth. From 1962 to 1967, Spacelabs was…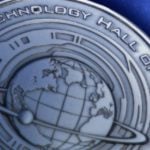 A family of biomedical implantable devices have been developed over the past decade which are based on a wide array of space technologies, including battery advances, miniaturized circuitry, digital telemetry, and electronic sensing systems. The initial device was the rechargeable…